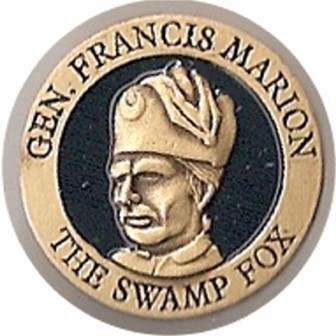 Francis Marion Trail in Clarendon County (Swamp Fox Murals Trail Society - Home page ) and
FM Trail Commission in Eastern South Carolina and Eastern SC Heritage Region
Berkeley Tour & Pee Dee Tour markers below.
"Clarendon County Tour" app gives you these sites and markers; download here or at Google Play apps Store.
This is your tour of the historic markers & sites or tour at home & pick the site to visit in Clarendon County, SC.
(Mural map links: I-95 Exit 102 : Fort Watson: Summerton , Manning , Turbeville return to I-95 Exit 135)
Come to the Clarendon Chamber for a map (or download below) and a Tales of Marion CD for your auto tour: 803-435-4405 or 1-800-731-Lake
Clarendon County Chamber of Commerce 19 N. Brooks Street Manning, SC 29102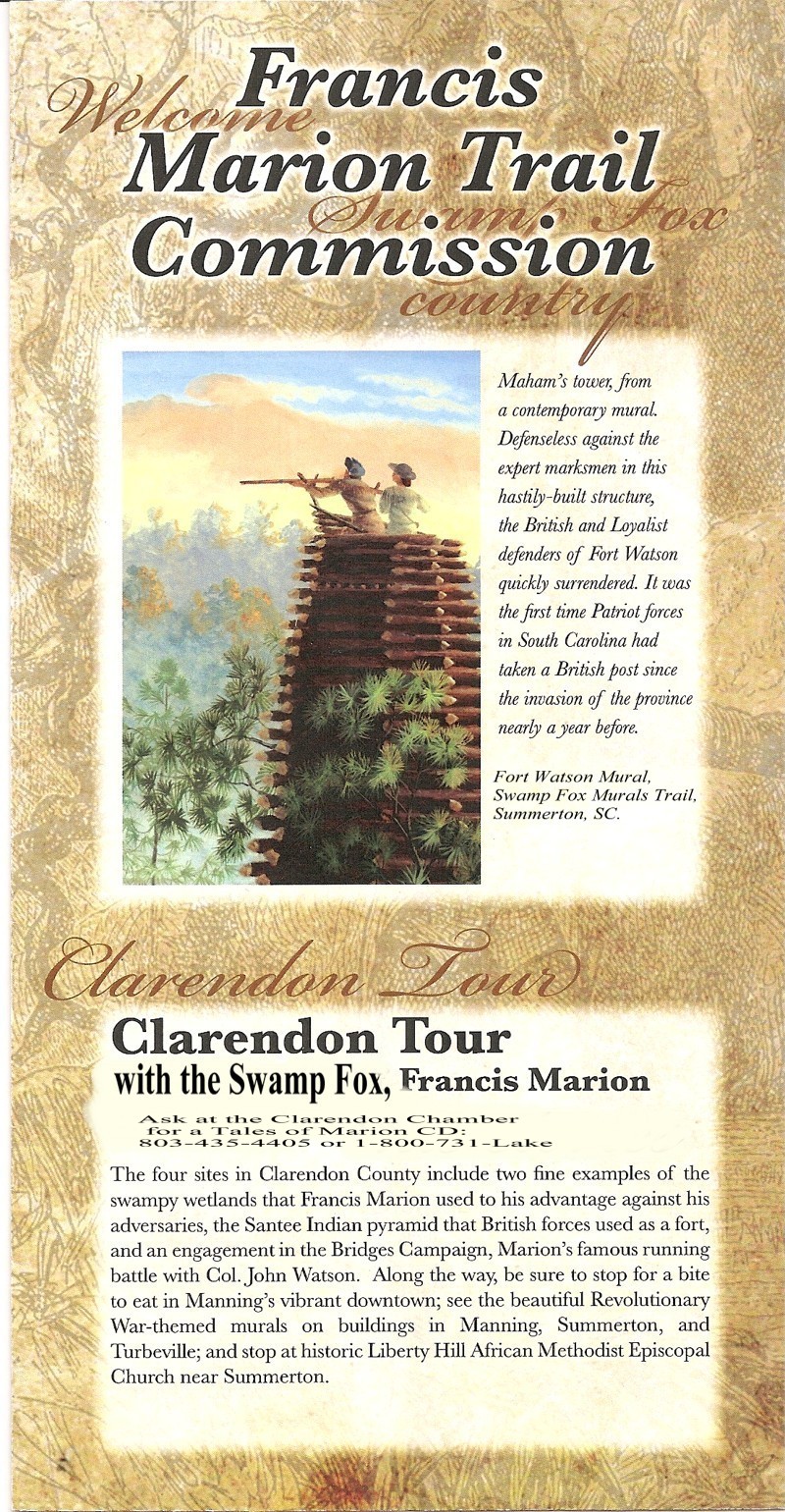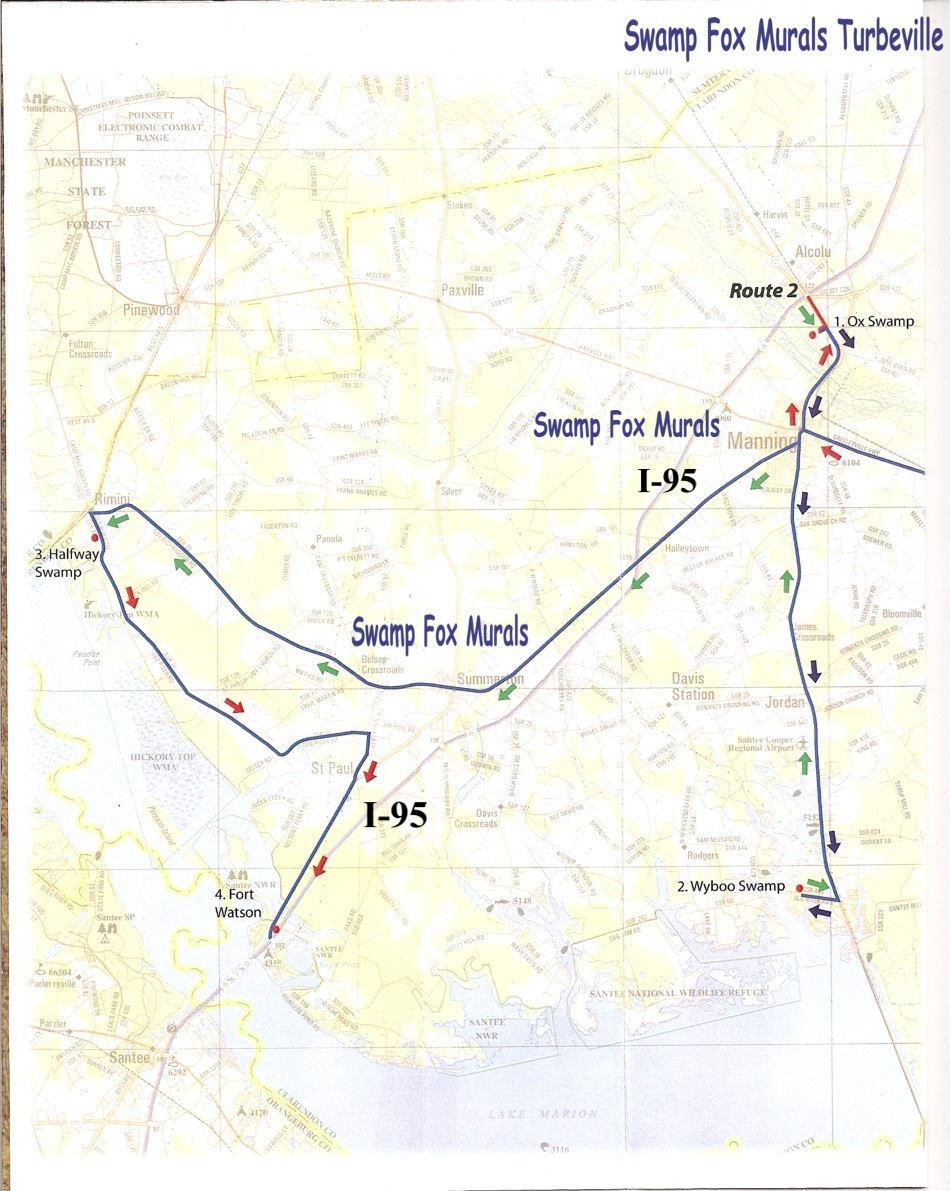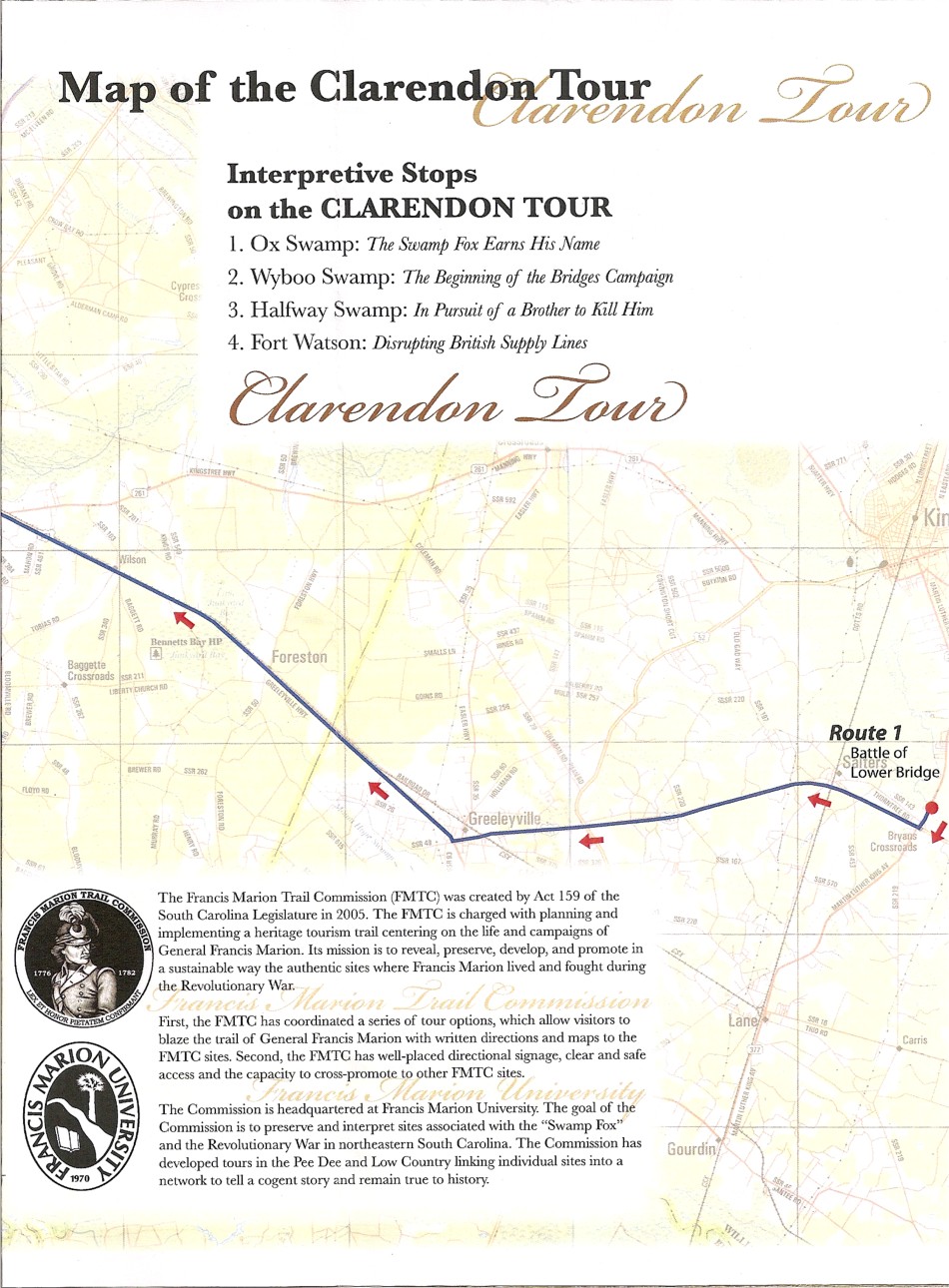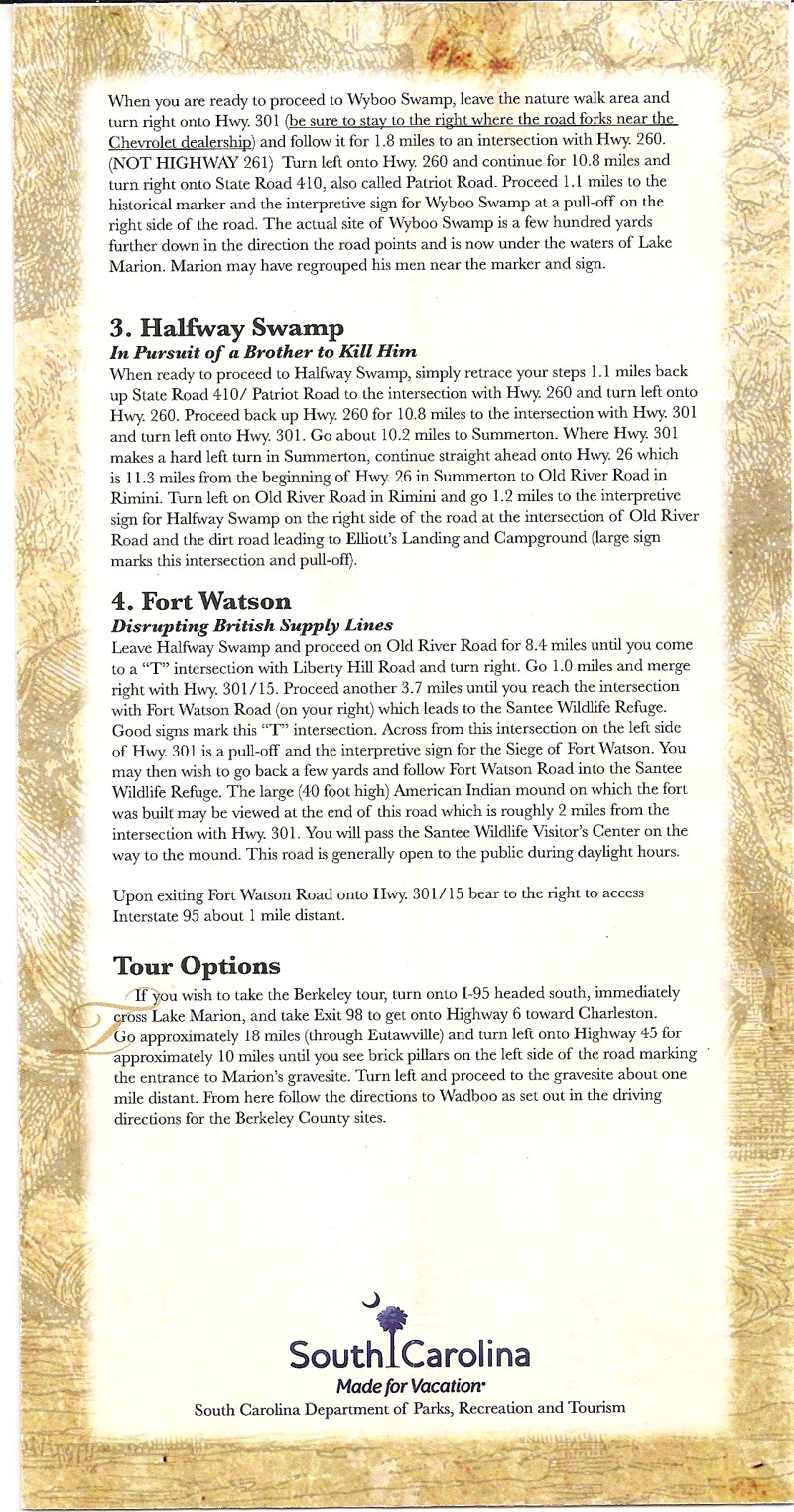 Clarendon County Tour
# 1 Ox Swamp -» 33° 42.941′ N, 80° 11.875′ W
# 2 Wyboo Swamp -» 33° 32.368′ N, 80° 13′ W
# 3 Halfway Swamp -» 33° 39.066′ N, 80° 29.766′ W
# 4 Fort Watson -» 33° 31.819′ N, 80° 25.591′ W
Berkeley County Tour:
Francis Marion's Grave and Elusive Francis Marion, Pineville
Wadboo Barony, Moncks Corner, and Quinby Bridge , Huger
Fort Fairlawn, and Colleton House, Moncks Corner
Pee Dee Tour:
Burch's Mill, Mill Branch, Pamplico, Florence County
Dunham's Bluff, Britton's Neck, Marion County
Snow's Island, Britton's Neck, Marion County
Witherspoon's Ferry, Johnsonville, Florence County
Black Mingo Creek, Rhems, Georgetown County
Indiantown Presbyterian Church, Williamsburg County
Battle of Kingstree, Williamsburg County
Battle of Lower Bridge, Williamsburg County
"Clarendon County Tour" app will tell and show you these sites and markers;
download here or at Google Play apps Store. This is your walking and talking tour of the historic markers & sites
Or tour at home & pick the site to visit in Clarendon County, South Carolina
Murals Maps: South to North: Follow Historic US 301:
I-95 Exit 102 : Fort Watson
return to I-95 Exit 135; Additional Locate Us Maps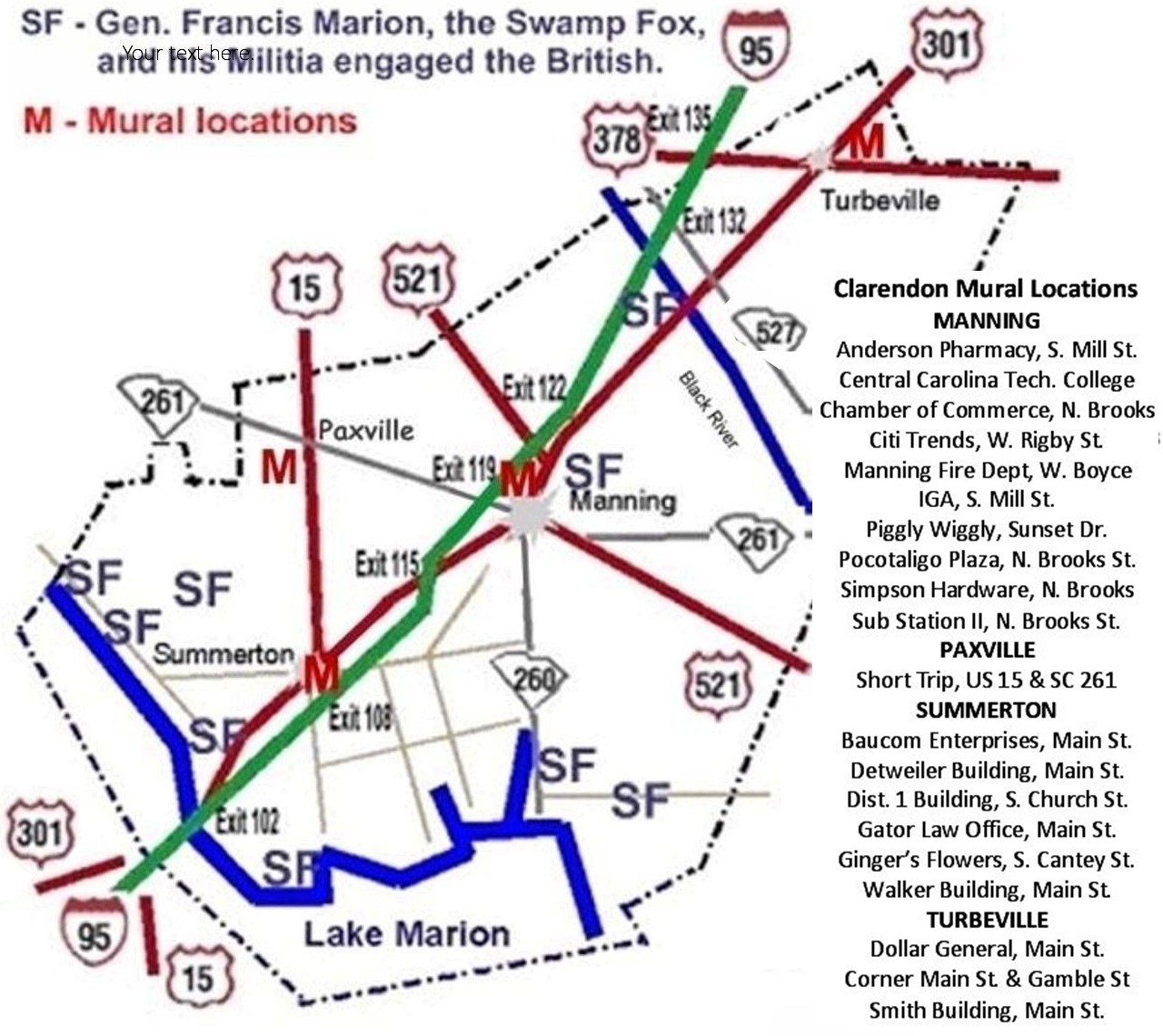 Need help: 803-435-4405 or 800-731-Lake or 803-478-2645
e-mail chamber@clarendoncounty.com
Clarendon County Chamber of Commerce, 19 N. Brooks Street

,

Manning, SC 29102
Francis Marion Trail in Eastern South Carolina and Eastern SC Heritage Region
Swamp Fox Murals Trail Society - Home page